---
Online protection and security are not mere options anymore – any computer user knows that there are big threats in the online world that could lead to harm in many ways. Hacking, security breaches, fraud, identity theft etc. are very much used terms nowadays because with the technology advancement, these online threats are also becoming sophisticated. Phoenix 360 is one such software that protects against all these threats present online. It is one-in-all online protection software deal; in this Phoenix 360 review, you will learn more about them.
Note: iolo Phoenix 360™ has been reborn as System Mechanic® Ultimate Defense™. For more information, please CLICK HERE.

iolo Phoenix 360 Review – New All in One Online Protection Software
What is Phoenix 360?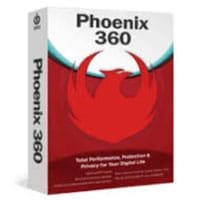 iolo Technologies, LLC is the company that produces PC optimization, security and data recovery products such as System Mechanic Professional, System Shield AntiVirus & AntiSpyware, DriveScrubber, Search & Recover… iolo, headquartered in Los Angeles, California, is the subsidiary of Phoenix Technologies Ltd. They have been operating since 1998; iolo is trusted by millions of customers in 33 countries of the world. Their products are available in 11 languages benefiting numerous people worldwide. In their portfolio, they have patented technology and award-winning software.
Among their many products, iolo Phoenix 360 is one of them. It is the complete product that offers total protection, privacy, and performance for your digital life.
Download iolo Phoenix 360: Click Here
Why Should I Need Phoenix 360?
As the modern technology is advancing, so are its enemies. The number of security and performance vulnerabilities has been increasing day by day. Hacking, spam, pop-up ads, bloatware, all these things are improving with time. The epic data breach affecting 145 million US consumers has forced the Equifax CEO to resign recently. All the big social media sites including Facebook, Yahoo, LinkedIn, etc. now claim that they are unable to protect the privacy of the personal data of the users. During this time, iolo technologies offers best-selling PC optimization software System Mechanic® that keeps you safe from all kinds of threats present online.
There are so many ways by which Phoenix 360 iolo keep you protected online. It comes with ByePass that secures your life and gives you peace of mind. ByePass is a platform agnostic that not only protects your password and keeps you safe while you shop online. It prevents anyone to steal the information of your credited card and prohibits its encryption.
Malware is the threat to your PC that simple antivirus programs are unable to detect. Phoenix 360 features Malware Killer that has the ability to find and destroy existing malware in your computer plus it protects from the future threats.
Privacy Guardian online privacy protection is another cool reason that why you need Phoenix 360. It prevents browser fingerprinting scripts and provides you privacy with safe browsing. Not only that but it protects against identity theft, targeted ads, privacy invasion and fraud.
Check this video for more information on Privacy Guardian feature:
Phoenix 360 Key Features:
Phoenix 360 has so many amazing features that make it an ideal product for day to day use. Here are its key features:
Optimizes PC speed to better performance
Recovers irreplaceable files that are important for you
Blocks malware and removes them from your PC so they can't harm you
Deletes sensitive data permanently
Shields yourself online from spying eyes
Doesn't allow browser to track cookie
Improves identity theft protection
Secures your passwords and manages them as well
Offers military grade hard drive wiping technology
Provides VB 100-certified antivirus protection
New Phoenix 360 Coupon Code:
Note: iolo Phoenix 360™ has been reborn as System Mechanic® Ultimate Defense™. So please check our new coupon code below.
System Mechanic Ultimate Defense Coupon Code:
Take 50% OFF on System Mechanic Ultimate Defense for only $39.97 (Reg. $75.95) at iolo.com!
How to Install Phoenix 360 on Computer?
Once you installed the iolo Phoenix 360 installation file (Phoenix360Setup.exe), select the folder in which you want to save its copy. Run the setup and click Yes on the User Account Control window. When "Welcome to the InstallShield for Phoenix 360" appears, you need to press next. Follow the instructions and complete your installation. When you click Finish button, the Phoenix 360 Active Panel will open. It is actually the launcher that allows you to install different software products that you wish to install.
How Phoenix 360 Works:
In Phoenix 360, there are different products that are up to you to setup, including:
Privacy Guardian anti-browser fingerprinting that provides online privacy protection
System Shield VB100-certified AV protection
ByePass that manages password and its encryption
System Mechanic which is an award-winning performance optimization
DriveScrubber which offers military-grade drive wiping technology
Recovery software that allows searching and researching of deleted files
Malware Killer that offers on-demand malware removal
Easy to Use
It is quite easy to use Phoenix 360 because you only need to run the software and the rest of the working is done by the software itself.
Compatibility
These are the requirements of Phoenix 360:
PC having Windows 7, 8, 8.1, or 10
Hard disk space of at least 270 MB
RAM of at least 512 MB
Good internet connection
Windows Administrator user account
Google Chrome web browser (should be the latest version)
A Few Phoenix 360 iolo Reviews from Actual Customers
Here are some Phoenix 360 customer reviews:
"The best and only set of optimization tools that I use…" Stuart M. Edinburgh, UK
"Excellent product. I do not believe any better exists!…" Robert K. Indianapolis, IN
Quick iolo.com Reviews:
Website Layout
iolo.com is the simple and easy to navigate website that has everything placed perfectly. It has Home, Product, Downloads, Resources, Support, Press, and Company tabs at the top with My Account button on the right top corner. You can easily go to your desired place with these tabs.
Orders & Shipping
You can purchase the Phoenix 360 online. You will get the product license along with the activation key that you can use to activate and use your downloaded product. Their many products are interconnected as well; that means you don't need to enter some details again and again and the system will recognize the similar software programs from the iolo.com without any of your efforts.
Customer Service
iolo.com offers great care to their customers by offering 24/7 customer support that means they will be available whenever you want. They offer extended customer care search that other doesn't. To contact customer care center, you can call at +1 (650) 963-5701 – you get 24/7 English phone support.
Online Support
iolo is not a new name in the techno industry, as their products are impressive, so is their ways of showing that they care. Their customer support is highly advanced. They offer different services under one heading of customer care including Extend My Service Lookup Licensing, Quick Solutions, Knowledgebase Search, Contact Customer Care, and My Account. You can get help from the already written topics on the troubleshooting of the product; you can also directly talk to any customer service agent available online.
Phoenix 360 Review – Final Thought
Final Verdict:
What We Like About iolo Phoenix 360:
Superb PC system tune-up software
Convenient password manager features
Well-designed interfaces for all applications
What We Don't Like About iolo Phoenix 360:
Applications should be installed and registered individually
Privacy guardian should be part of System Mechanic
Phoenix 360 is a complete all in one security software that could help your computer in many ways. From PC optimization to the malware removal, the software is powerful enough to do such things. Their customer support is also good and they still working hard to provide you with the best update.
Should I Buy Phoenix 360 from iolo.com?
Of course! Yes
Well, if you care about your online security, PC maintenance etc, then this will surely be the purchase that you will also recommend to others. It will be the purchase that you couldn't forget at all ever. Here is a wonderful good news for you. Now we are offering special discount on your every purchase that could help you to lighten your pocket. Get the special discount of 50% on your every purchase with our special Phoenix 360 promo code below. Avail the advantage when you can because time flies and so is the discount and you need to catch it on time to avail the full benefit.
Best iolo Phoenix Promo Code:
Note: iolo Phoenix 360™ has been reborn as System Mechanic® Ultimate Defense™. So please check our new coupon code below.
System Mechanic Ultimate Defense Coupon Code:
Take 50% OFF on System Mechanic Ultimate Defense for only $39.97 (Reg. $75.95) at iolo.com!
How to Redeem iolo Phoenix 360 Coupon Code?
Getting the discount on iolo Phoenix 360 with us is quite simple. Please click on our iolo Phoenix 360 coupon code and get 50% off on your purchase at checkout.
(iolo Phoenix 360 Review & Promo Code)
Category: System Utilities